What does a recipient notice right away after getting an email? The email's subject line contains it. Why would the recipient even care to check the email if the subject line is boring? You can use subject line generators to automate the process of composing and searching for the finest subject lines with a high open rate.
A survey found that 33% of email receivers just read the subject line before opening the message.
This is a key factor in why email campaign subject lines need to be catchy. You must work on them since they are just as crucial as the content contained therein.
When the recipient sees the subject line, their initial inclination should be to click the link to open the email. You should take action to change this. The email must grab the reader's attention in order to avoid easily blending in with the hundreds of others in the inbox.
The top snappy email subject line generators that will produce subject lines with high open rates are what we're going to discuss in this article.
Writing Ideas For Cold Email Subject Lines
What should you include in the subject line of a cold email to obtain a competitive advantage?
Here are some ideas for creative email subject lines:
1. They ought to be concise
It will be easier to get the recipient's attention if you keep subject lines succinct.
Long subject lines will be cut off in the inbox, making your efforts seem pointless if you decide to use them. The fact that many individuals read their emails on mobile devices makes it essential. Not wanting to lose out on that audience is important.
So, when creating subject lines, bear the length in mind.
2. They ought to have a feeling of urgency.
The open rate increases when you convey a sense of urgency in the subject line. This is a smart move, but you shouldn't overdo it.
Use such subject lines just for brand-new, limited-time offers to entice the reader to open the email.
3. Maintain a distinguishable sender name
Nobody wants to read an automated message. Most frequently, messages from info@company.com are ignored and placed in the trash.
Therefore, you must maintain it closer to human.
Set the sender's name so that it appears as though a human sent the message. To add a personal touch, you might decide to incorporate the names of the team members from your business. When it comes to an email campaign, these tiny things pile up and have a big impact.
4. Think about individualization
You may make someone feel important by getting to know them personally.
When recipients see their name in the subject line, they would respond more strongly. Compared to emails that don't include the recipient's first name, these emails had a greater open rate.
Discover the prospects' interests and give them a sense that the email speaks to them on a personal level. In the subject line, it is mentioned that utilizing few words is an art, but that if you are able to learn it, you will be successful.
17 Best Free Email Subject Line Generators
Following are the best Free Email Subject Line Generators that are immensely useful:


1) SalesBlink

SalesBlink's free email subject line generator is a handy tool that comes up with subject lines with high open rates.
The tool is user-friendly. All you have to do is the following:

Enter the service you provide.
Then enter the name of the recipient company.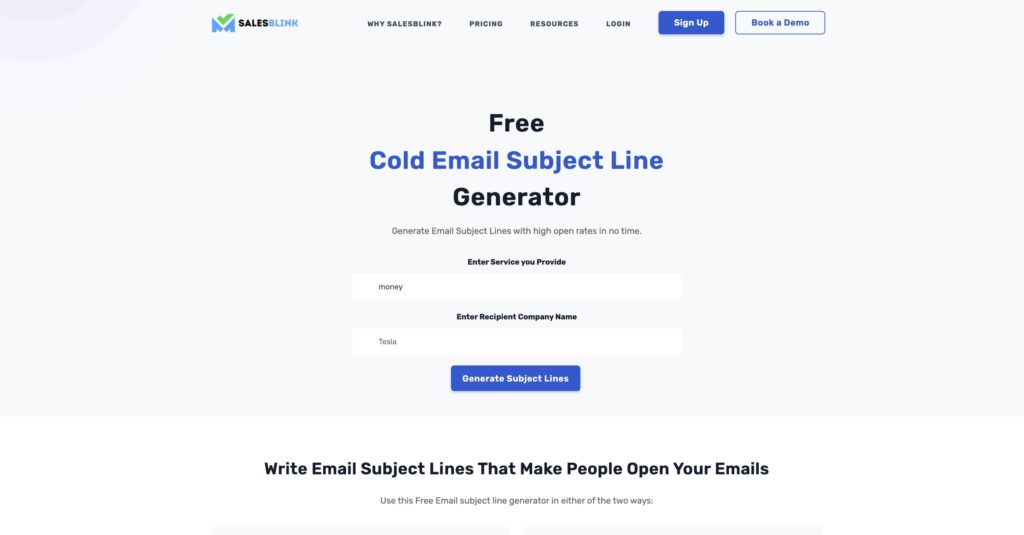 The tool will provide you with five catchy subject lines, which you are free to use in your email campaign.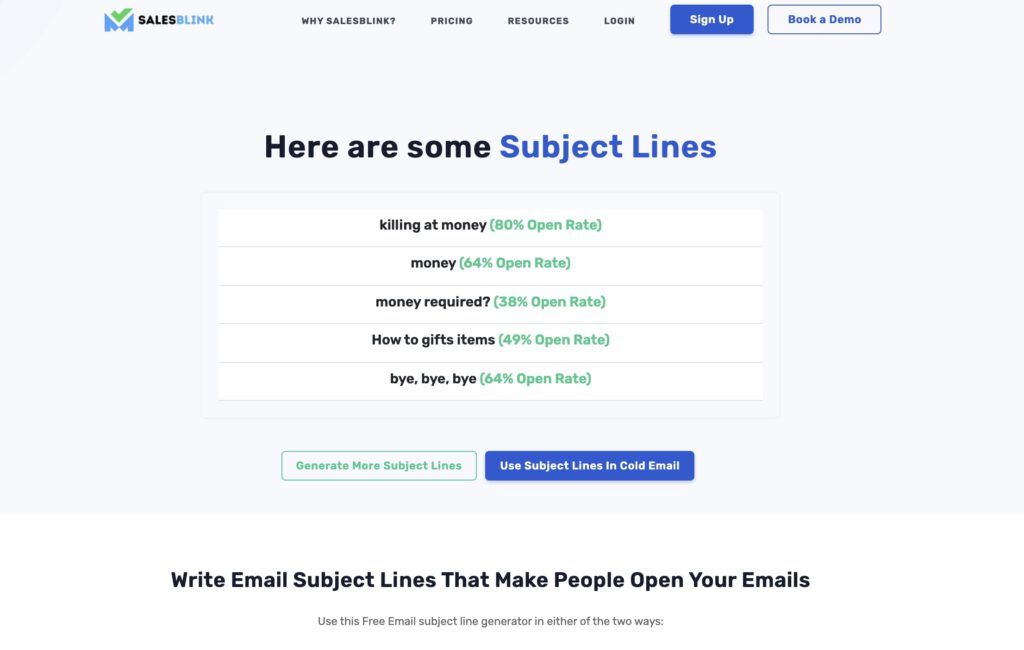 Try using the suggested subject lines and see how successful your email campaign turns out to be.
The biggest benefit is that you get all the suggestions absolutely free of cost.
There is a lot more than SalesBlink has to offer apart from the free email title generator. It is a full-stack cold sales outreach platform that helps lead generation, prospecting, outreach, and closing.


2) Active Campaign

With ActiveCampaign's free email subject line generator, you get email titles using keywords.
There are three categories to choose from, i.e. Pain Points, benefits, and Topics.
Select what suits you and enter your keyword.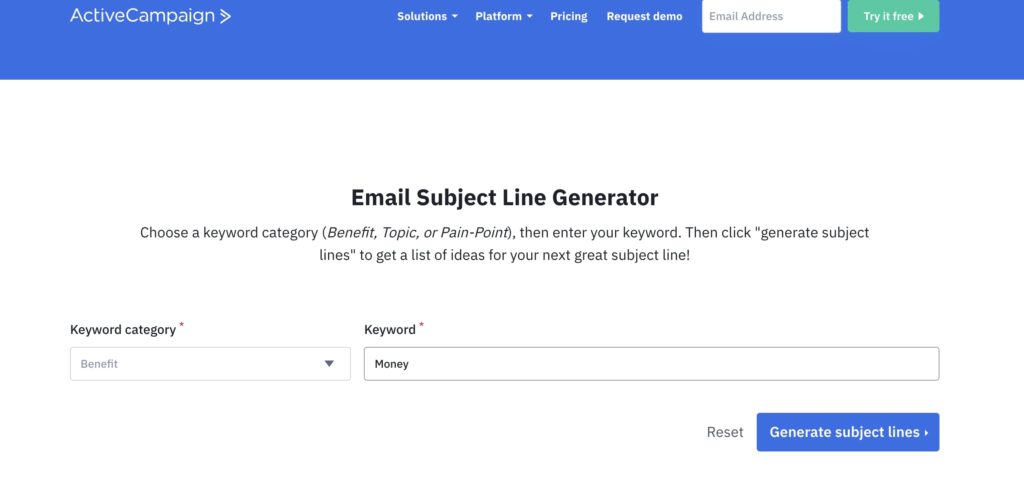 Upon hitting enter, you get four subject lines. You can generate even more suggestions if you wish to.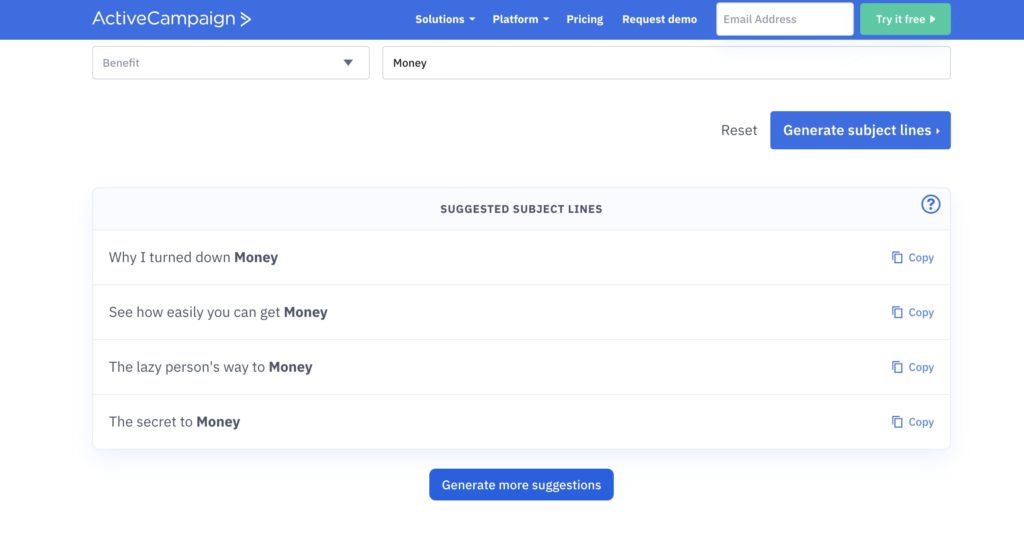 ActiveCampaign CRM is a fantastic tool when you are searching for meaningful subject lines that give you results.


3) Reply.io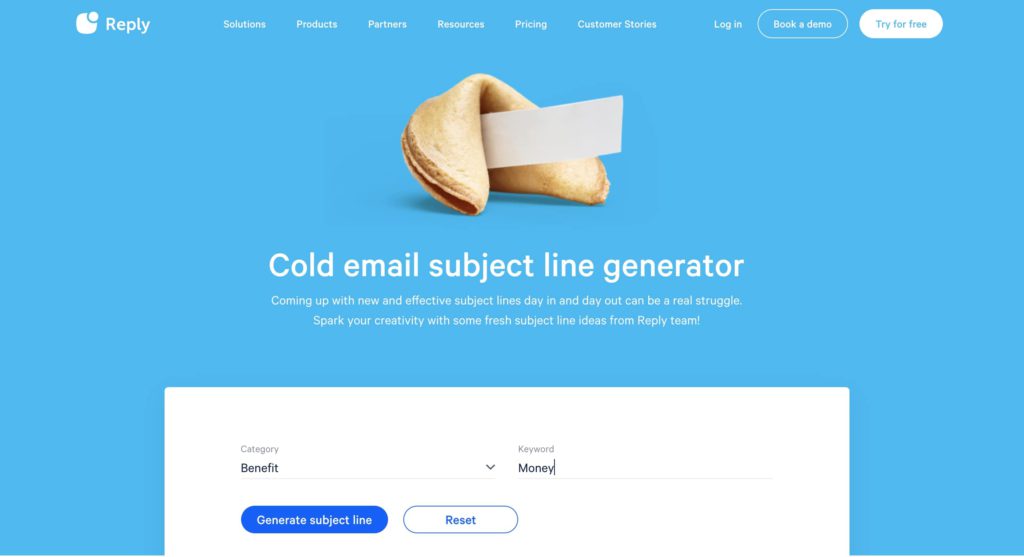 With Reply.io's tool, you can generate subject lines for emails on the go. You can do so by selecting an option from the categories mentioned and entering a keyword. The results generated are apt for B2B email marketing campaigns.

4) Automizy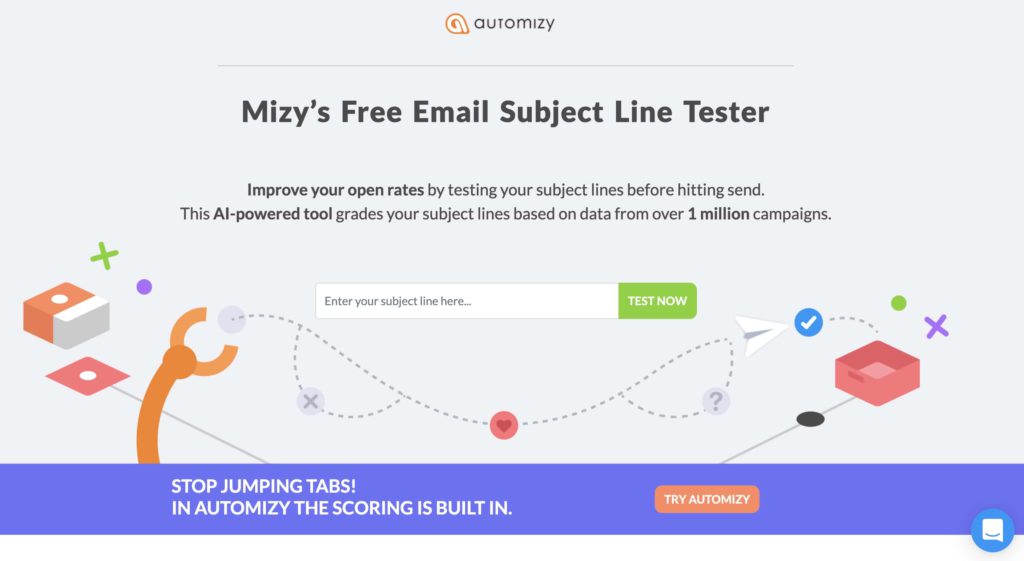 Next on the list is the free subject line generator by Automizy. This tool works quite differently as it enables you to copy and paste the email's body, and according to that, it generates a suitable subject line.
This way, you get a tailor-made subject line for your email.


5) Headline And Subject Line Generator By Google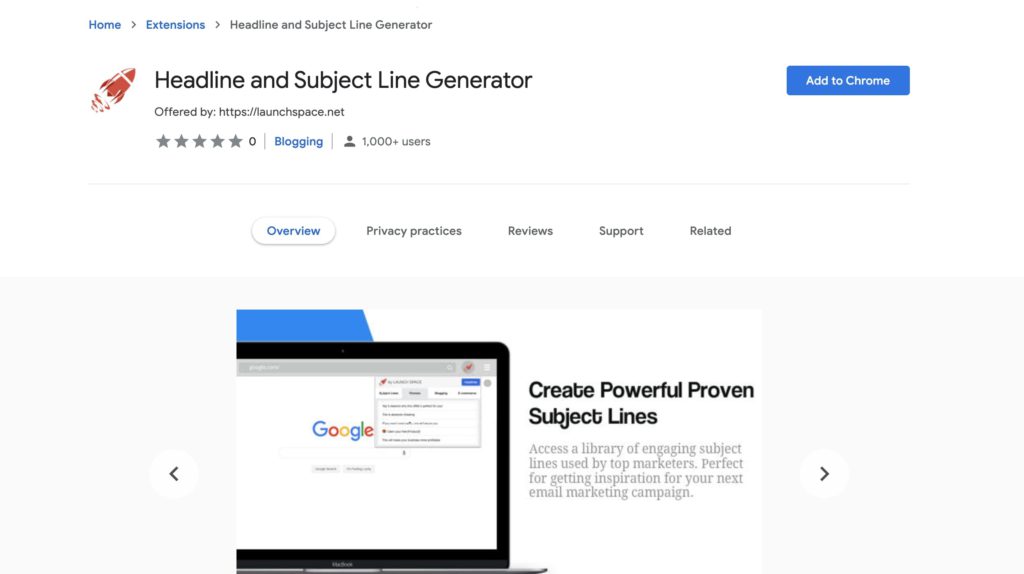 It is an extension made available by Google that you can add to chrome. It helps one create headlines and email subject lines that have higher open rates. Just enter a target keyword, and you will get a catchy subject line.
There are four categories for you to choose from – List, How To, Question, General. You then need to enter your keyword or key phrase.
There are more than 500 combinations of headlines and subject lines for you to use.


6) SEOPresser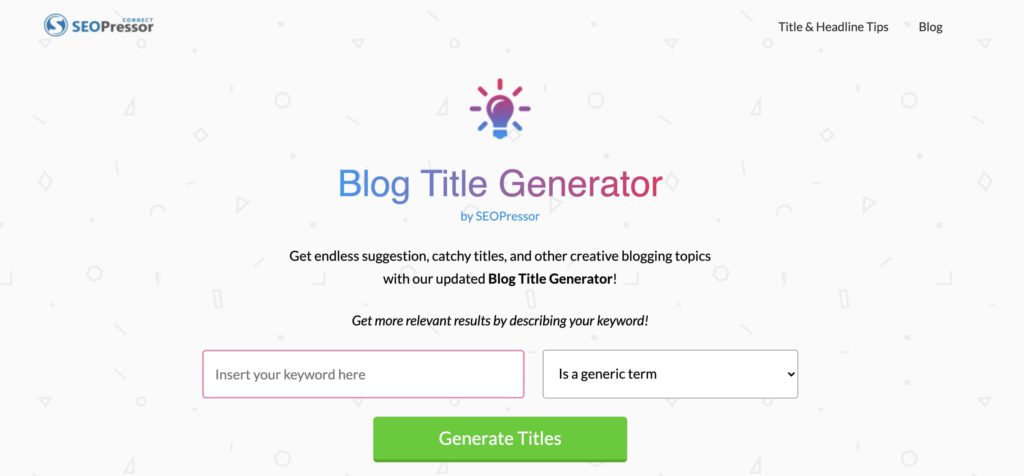 SEOPressor is a blog title generator, but it can give great ideas for email subject lines. Enter the keyword and select which category it belongs to from the drop-down menu. Click on 'Generate Titles' and get results. There are numerous suggestions to choose from. You can treat them as ideas for your email subject line.

7) Copywriting Course

With this free cold email subject line generator, you can get a clear idea of your subject lines, depending on your topic. You can choose from a list of preset subject lines and fill the blanks with your chosen keyword.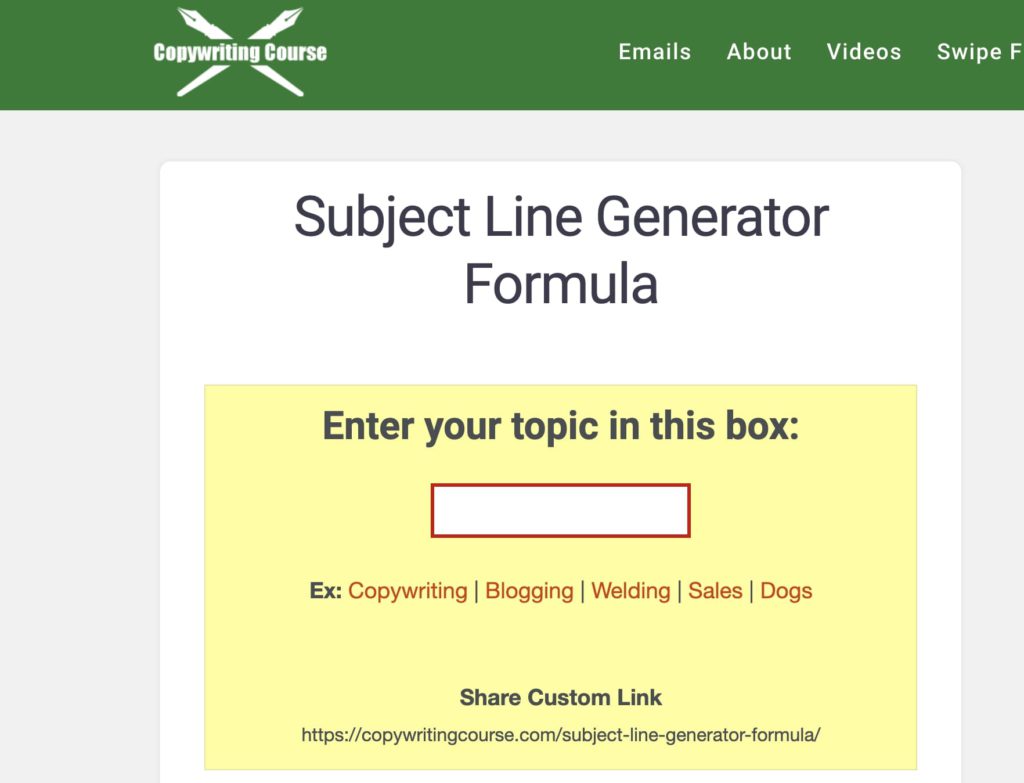 Though you get many results for a topic you enter in the generator, you have to choose one with care. It has to be such that it suits your email's content and would work for the target audience.


8) Kickass Headline Generator

Kickass headline generator is a tool that generates engaging headlines, but you can use it as a free email title generator.
Also, this tool is not like the generators mentioned above. You won't get ready suggestions here. You have to set conditions in the tool, and you will get formulas.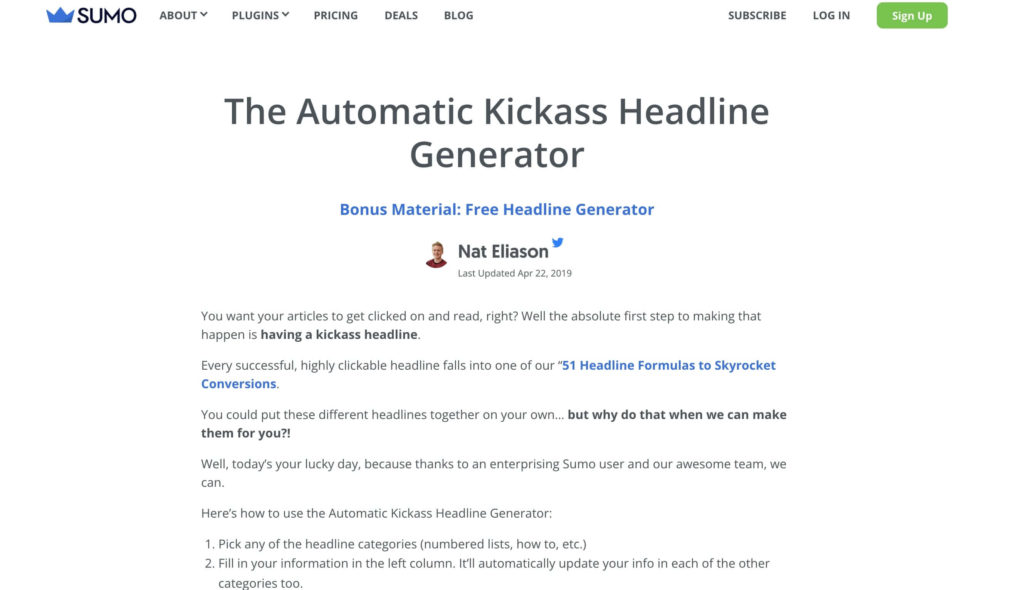 It is then up to you to select your headline or subject line format and add elements to it.


9) Content Row

Content row is a content management tool. It serves not just as a headline/subject line creator but also as a headline analyzer. It is an easy-to-use and free tool that allows you to carry out 3 headline searches in a day.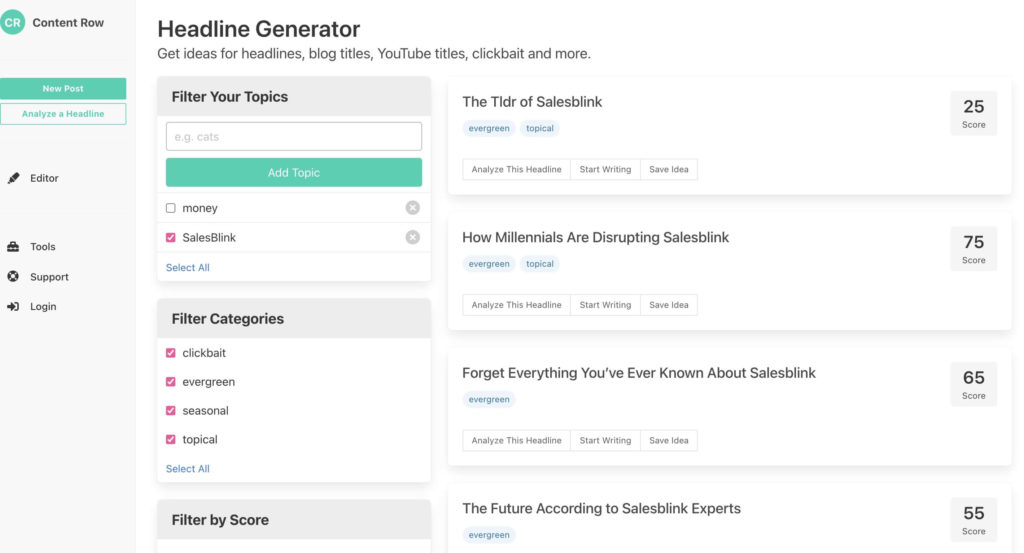 For unlimited usage, you have to purchase their paid plan.


10) WebX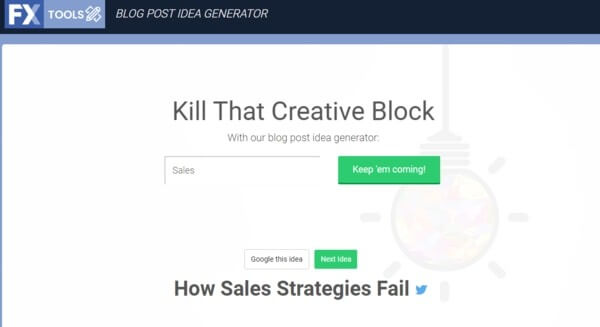 Though this tool is for generating blog post ideas, it will help make you choose email subject lines. You can call it a free email headline generator. This tool's best function is that it provides you with ideas based on your topic and lets you search for the suggested idea on Google.


11) Keap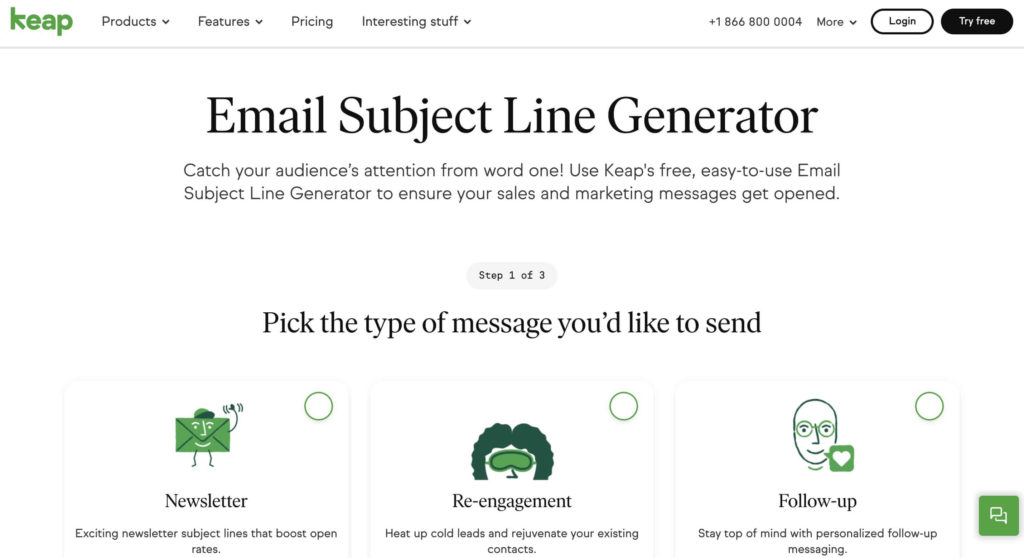 You can use Keap's free subject line generator to get subject line ideas for your sales and marketing emails. The free tool gets your job done in three easy steps. First, pick what type of email you are sending from the options available. Next, mention the target audience, interest category, and the desired result. That's it, five subject lines will get generated, and you can use them for maximum responses.


12) INK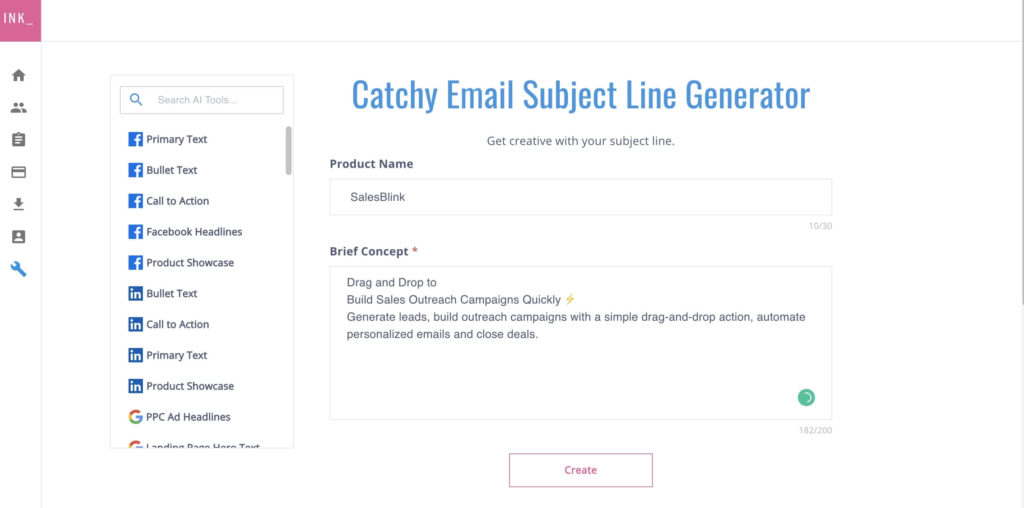 INK's subject line generator helps you get creative. All you need to do is enter the product name and the brief concept of the email. You will get an output in no time. The tool uses AI to bring you the best results. Use this tool endless times for your subject line needs.


13) Encharge.io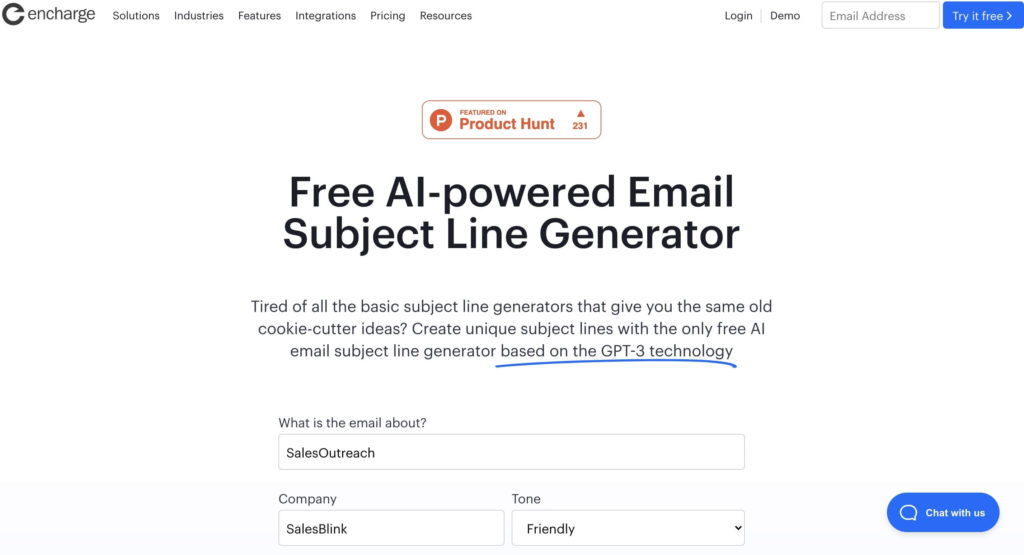 If you want to get better subject line ideas, it is good to turn to Encharge.io's subject line generator. It provides unique subject lines with the power of AI and GPT-3. The output is of a very high level and would take a copywriter several hours to come up with. Just enter what your email is about, the name of the target company and what kind of a tone you want. You will get the result instantly.


14) Emaildrips.com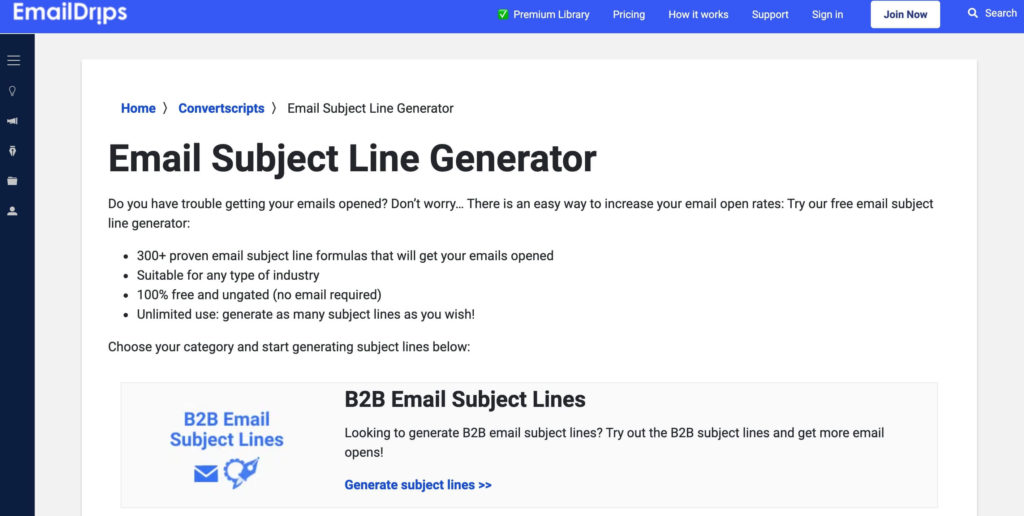 Emaildrips has an subject line generator that is suitable across all industries. The tool is free of cost, and there is no need to share your email address to use it. Also, you can generate subject lines any number of times. Customize the subject lines easily by entering the details asked in the generator.


15) StoryLab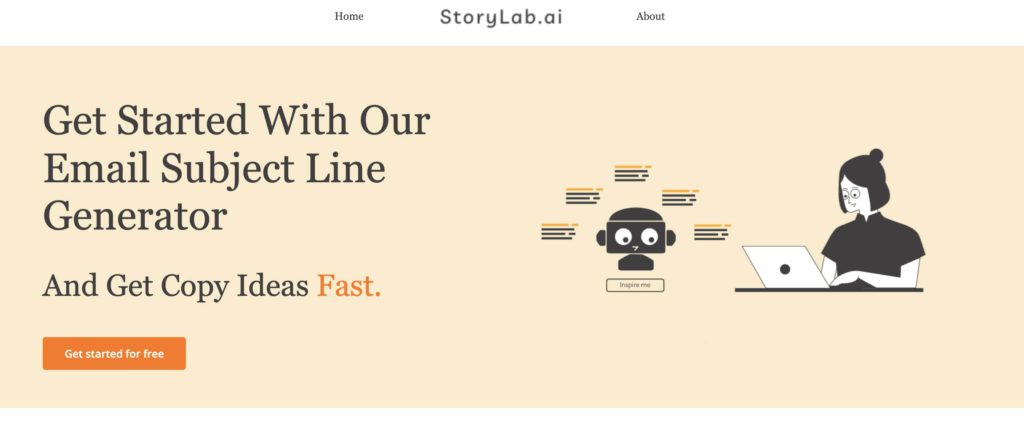 Story Lab is an online tool for generating content ideas. They have a subject line generator that requires you to provide your company name, describe the content of your email and click on "Inspire me". The tool uses AI to generate subject line ideas. Also, there is no cap on the number of times you can use the tool.


16) Outtale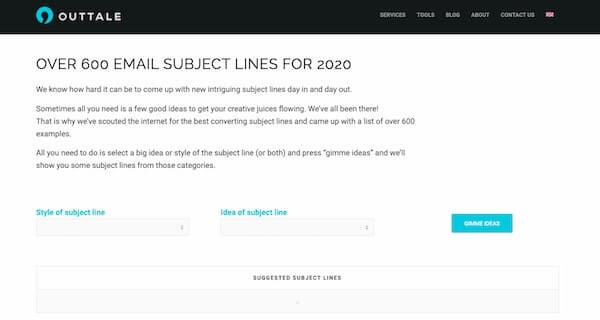 Outtale has a free email subject line idea generator that helps provide unique subject line ideas for your campaigns. There are drop down menus in the tool to select the style and idea of your choice. If you are not happy with the output generated, there is always the option to click on "Get more suggestions".


17) Title-generator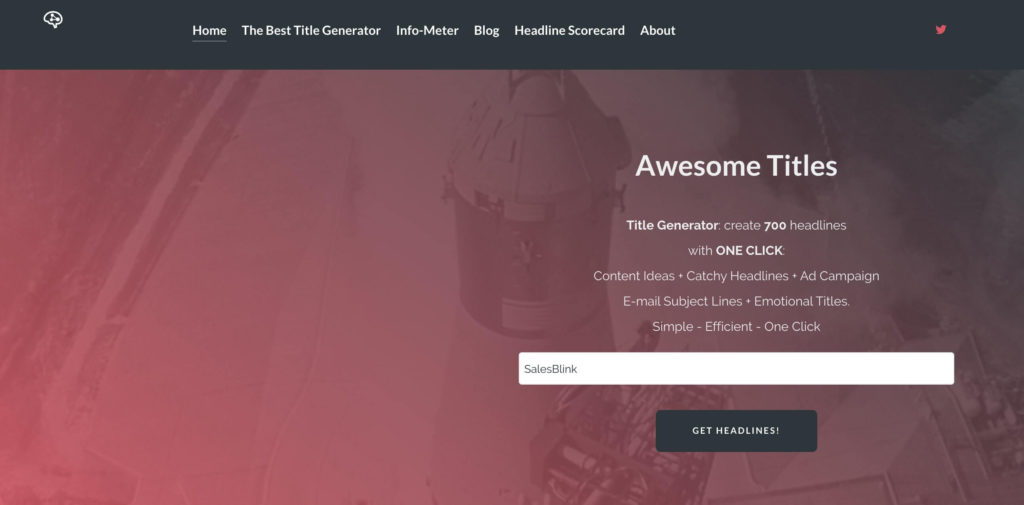 Here's yet another tool that increases open rates and email click-through rates. It generates titles and headlines for content and can work well for email subject lines too. You only have to enter the main keywords, and you can get the output with one click.


Email Subject Line Tester Tools

There is no doubt that content creation takes a lot of time and energy of the marketing team of every organization. When recipients ignore your hard work, it can get disappointing.
After creating an impressive subject line, you have to ensure that your emails' open rates are high and they do not meet their end in the spam folder.
To make your email campaign a success, you must study a lot of data and understand what could work for your target audience and industry.
However, what if there is a tool that would do all the hard work for you?
How can this be done?
Simple. By using an email subject line tester.
Following is a list of the top 5 email subject line testers:


1. Net Atlantic Email subject line Grader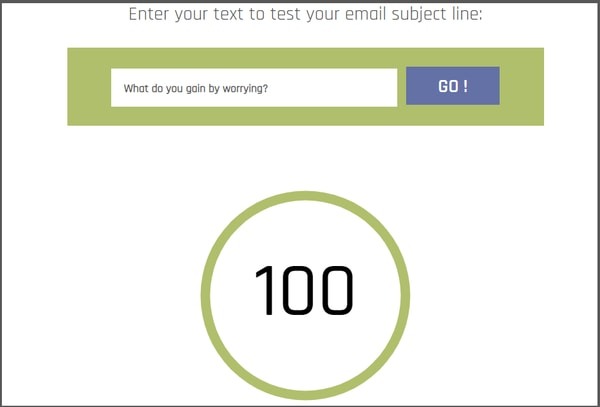 This is free to use tool that scores the subject line based on specific criteria such as how attractive the subject line is, the balance and mixture of words, and the word count.
You will get a score based on these parameters so that you can improve them. Ideally, a subject line should not be more than 6-7 words or 50-65 characters.
The tool will help you make your subject line get the maximum response from prospects.


2. Coschedule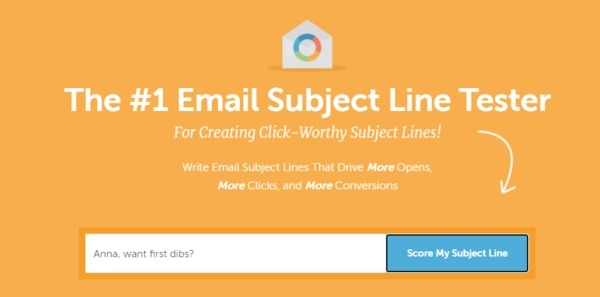 The email subject line tester tool of Coschedule has a 100 point system to grade a subject line. The score will be high when the subject line is easy to read and understand. It is because the tool checks the reading grade level as well as word count.



Also, it checks for words that the spam folder will spot, such as 'Free,' 'Re:.' This is to ensure that the email service provider does not label them as promotional.
It takes a glance at the excessive use of punctuation, the correct use of capitalization, and personalization.
You can also see what your subject line will look like on the desktop and mobile screen.
After all, you have to consider mobile devices because most of the email reading these days is done on the go.


3. Spam Check

After all the hard work you do to create email subject lines, you would not want the spam filter to hold your email. You have to ensure that you beat spam filters, and it has to be on top of your priority list.
There is Spam Check by Postmark to help you with the same. It is a spam score checker that lets you know whether the email will trigger the spam filters.
You need to copy and paste your entire email content, including the subject line, message, and sign-off. You will know whether the email has something in it that is likely to send it to the spam folder.


The tool will give you a spam score, and you have to work on your subject line accordingly.


4. Moosend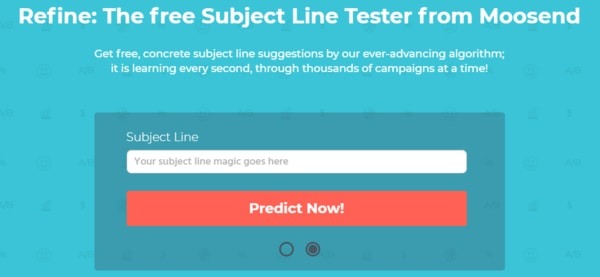 This is a subject line tester using which you can find out your email open rate.
Moosend uses AI to do real-time analysis.
When you enter your subject line, it also asks for other details like your industry to compare the predicted open rate with Itthe industry's average open rate. It helps in improving the subject line further so that you get better results.
With Moosend, you also get recommendations to make your subject line look better, such as adding emojis, using the tactic of creating urgency, personalizing the subject line, or working with the figures.
The tool helps in estimating how every suggestion will affect your open rate.


5. Send Check It

You can compare your subject line with 1,00,000+ emails when you use this tool. Send Check It has 16 criteria to score the subject line.
At the same time, it gives recommendations on how you can improve your email subject line. This tool checks for word/character length, readability, and scannability.
You can also see a mobile and desktop preview.
There is also the option of a deeper analysis to determine the subject line's sentiment, i.e., whether the subject line is positive, negative, or neutral.
The Send Check It tool also checks for personalization, emojis, proper use of capitals, and punctuations. It can also spot spammy words so that your email is not marked as spam by email service providers.


How To Improve Email Subject Lines?

All the above platforms seem to be immensely useful for creating subject lines for emails.
While all of them are good, you can't depend on them blindly. After all, these are generated by the system and have an algorithm. The results need editing and touch-ups that include checking for spelling, grammar, SEO, and relevance.
So, you have to give a human touch to it before you use the suggestions.
Also, note that these subject line generators will give you text suggestions most of the time with numbers in between. You can add symbols, emojis, and numbers you think are essential to increase the open rate. Emojis work in making people click open emails.


Get Ready To Use Email Subject Line Generators

Email Subject line generators are pretty helpful to give you the right ideas and suggestions for email marketing. They also help you get a higher open rate, which everyone wants for their email campaign.
Along with subject line generators, subject line testers are also handy tools for increasing open rates. While some of the tools mentioned above concentrate on passing spam filters, others focus on the subject line being mobile-friendly and having an ideal word count. The best part is that the email subject line generators we just saw are absolutely free.

FAQs

Are Cold Email Subject Line Generator Useful?
It can be an arduous task when you need introduction email subject lines on a large scale.That is precisely where you will need the help of an email subject line generator. It can help you pick interesting subject lines.
How to improve email subject lines?
Add symbols, emojis, and numbers you think are essential to increase the open rate of your subject line. Emojis can work in your favor as they make people click open emails.
How personalization in subject line helps?


By getting personal with the recipient, you make them feel that they are important. Recipients would give a more robust reaction when they look at their name in the subject line. Such emails have a higher open rate.